Driving Retention with Live Creative in a Healthcare Meeting
Annual Sales Meeting for an in vitro diagnostics company with 5000 employees.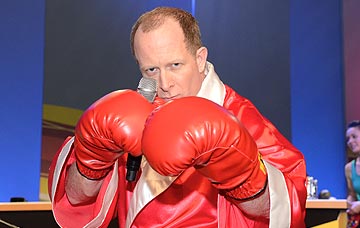 Needs:
Provide the sales force with a crash course in emerging technologies affecting their industry and include opportunities to practice using new sales tools prior to deployment. High-level concepts introduced in the general session needed to be pulled through breakouts with a focus on application. The entire program had to capture rep attention, clearly outline the changes needed, and provide motivation and excitement to apply what was learned in the months following the meeting.
Tactics:
Our Instructional Design consultant team coordinated all general session and breakout interventions with multiple client-side and production company stakeholders, ensuring each intervention was unique and engaging while aligning to a cohesive whole. Delivered a team-based competition across every aspect of the meeting from general session to breakouts via live and app-driven gamification. Live interactive characters introduced in general sessions were featured again in breakouts and eLearning videos to reinforce mission critical content. Program culminated in customized team building competition where knowledge and ability to apply said content was required for teams to win.
Results:
Supported the learning of attendees using 6 L&D performers with 2-7 deliveries per room in 4 breakout rooms over 2 days. Executive sponsor was able to evaluate content adoption through participant standings in gamification elements. Including the General Session, our involvement spanned 29 deliveries. Client and Production Company engaged On-Cue to take a more expanded role in the following year's sales meeting.