International Association – Hosting
An association promoting health and safety to more than 55,000 groups in the United States.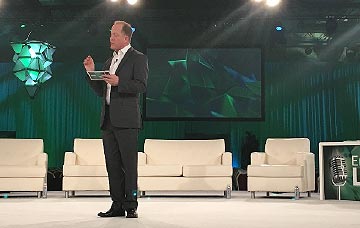 Needs:
Establish a new host for their event to promote the culture and a feeling of freshness to multiple segments of a three day meeting. Bring excitement to an award show currently viewed as "too long and boring". Create comedic segments that would entertain a diverse age range.
Tactics:
Introduce a live host who aligns with the demographic and connects with the audience shared viewpoints. Design customized comedic segments that spoke directly to the challenges and successes of the organization. Engage the audience with interactive interstitials to develop a program that is for them and about them.
Results:
Successfully broke down the "4th wall" between audience allowing 2200 people to feel more directly connected to the meeting and opened a dialogue with leadership. Creatively blended a high level of entertainment while showcasing the importance of membership and its role. Award show ratings by attendees were a record high. On-Cue has already been asked back for next year's meeting.